Community
The community at BCCS Sixth Form is warm, friendly and inclusive. Our first priority is to ensure that all students valued and supported. Students here quickly learn that they can contribute and help build on our strengths: you can become leaders within the sixth form.
One central aspect of our community is the Cathedral. Every Friday the whole school comes together to hear about the successes of the week, and to spend some time thinking and reflecting on wider issues, including faith. At the end of each term we have services to celebrate Christmas, Easter and the founding of the school. Central to our identity is diversity, and as a church school underpinned by a Christian Ethos, we welcome those of all faiths and none.
Underpinned by exceptional pastoral support, every child really does matter here. 
The ethos and culture of the academy are outstanding. Pupils from a wide and diverse range of backgrounds, faiths, beliefs and values come together in an exceptionally harmonious environment." OFSTED 2016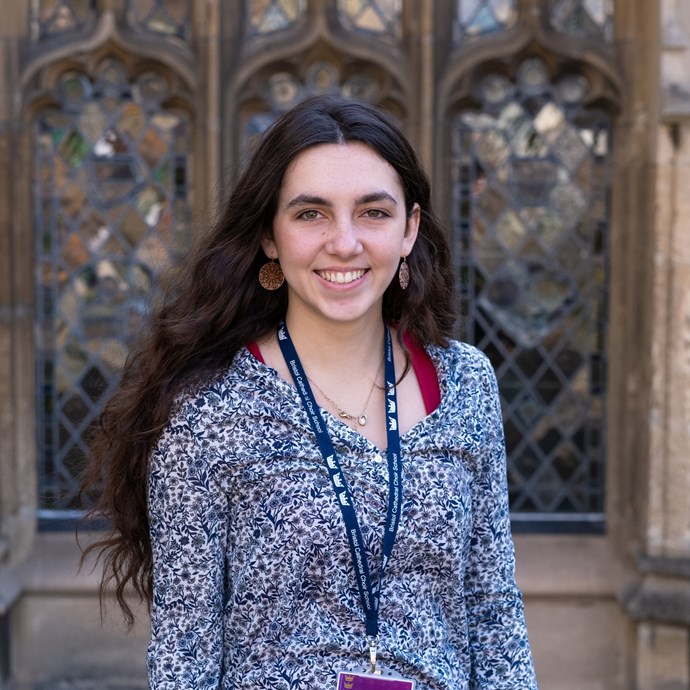 Thalia Marriage, Year 13
Student Leader, Head of Inclusion
Having been a student at BCCS since Year 7, joining the Sixth Form was an instant decision for me. The supportive and welcoming atmosphere of the sixth form carried right through to the lower school and made selecting my choices much easier. BCCS Sixth Form has a welcoming and caring atmosphere that is friendly and inspiring. The push to develop independence and take up opportunities presented to us makes it a really great place to come and learn, especially for studying A Levels. My lessons have been enjoyable, and the fantastic support from teachers has made my sixth form experience one to remember. The range of extracurricular activities always allows you to take breaks from work whilst still engaging within the school community. BCCS has been a wonderful experience for me, and I hope will continue as I move into Year 13!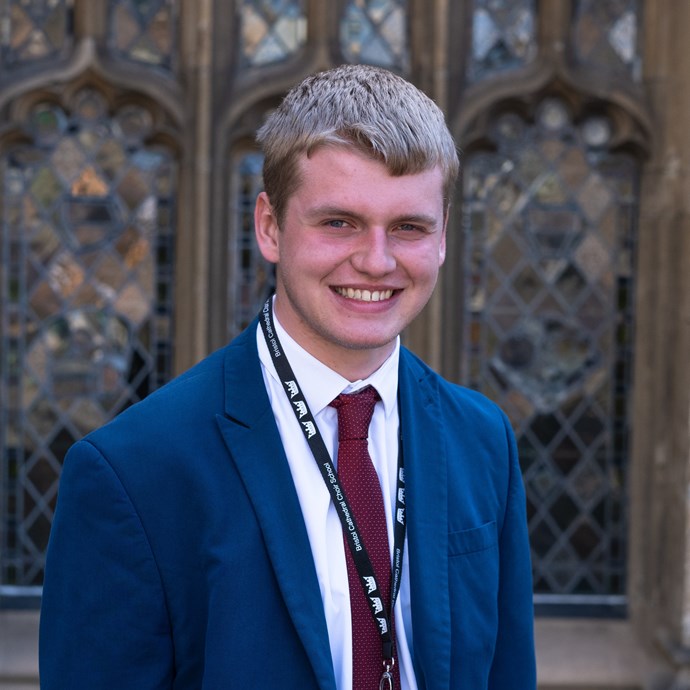 Adam Morris, Year 13
Student Leader, Head of Specialism
Bristol Cathedral Choir School is a school with a rich, unique history. When studying here you are walking in the footsteps of hundreds of years of Cathedralians. Its location in the centre of Bristol means there are many resources at our fingertips. These include the Central Library (for use in year 13) and Bristol University, to which many students go to take part in the Access to Bristol Scheme. The lessons in the Sixth Form are academically challenging and engaging to ensure all students are prepared for their next steps after school.
Being a smaller school, there is a strong sense of community, which means most people know each other, however, the sixth form is still large enough for you to find people with similar interests to you. There are many extra curricular opportunities here meaning there is something for everyone. These can range from sports teams to Duke of Edinburgh Gold to choirs and orchestras. The music at BCCS is exceptional with, once again, something for all abilities and interests including a chamber choir and symphony orchestra. Sixth formers are given opportunities to develop and be embedded in the school and spend time with the lower years through mentoring in lessons and becoming Prefects. This instills a sense of belonging and gives us responsibilities as we transition from school to adulthood.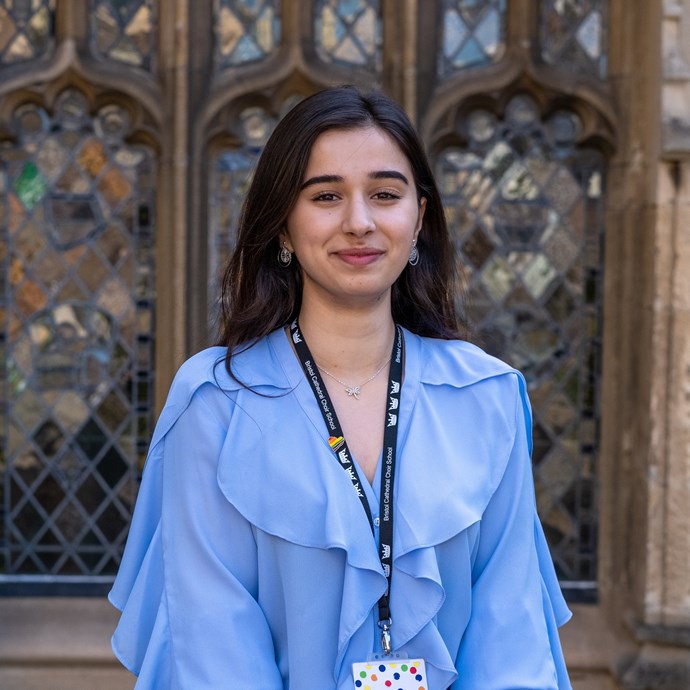 Dilan Kaygisiz, Year 13
Head Student, Canons House
Being an external student to BCCS, I visited and applied to many sixth form providers within Bristol. Yet on the BCCS taster day, a sense of belonging and comfort struck me as I realised it was the best option for me to carry on with my educational and personal development journey. Everybody is welcomed with open arms and I had no problem integrating in. After all we were all in the same position of starting A levels and meeting new people.
Starting sixth form is a transition stage where you finally begin to spread your wings out so I was amazed by the wealth of opportunities provided and independence given to students. Simply, the more you put in the more you will get out so I would encourage everyone to say yes and also take responsibilities. For example I've taken part in Young Enterprise, subject mentoring and now am a Head Student. You can even create your own clubs and societies.
Year after year, students achieve excellent results here and despite only having spent a year it's easy to see why. It's all about our culture. We have a strong sense of community and purpose. There are designated workspaces to suit all types of preferences and our central location allows a professional environment, a great study-life balance and diversity. The pastoral support, communication and commitment from staff are also exceptional.
In the end it's near impossible for me to sum BCCS up in a nutshell when I have so much to be proud of.
Shape your community
There are many ways you can contribute to the community - representing your peers in Student Parliament and becoming a Prefect are just two. At BCCS you will be encouraged to play an active role in the community. We look forward to welcoming you!