Examination Results 2023
A Level
Congratulations to all of our A Level students for achieving outstanding results. From a cohort of over 200 students, 39% of all grades are A* or A, 82% of grades are  A*-C. These are amongst our highest headline figures at A Level, which is particularly impressive given national grade deflation. BCCS students have won places at some of the most competitive university courses, including Oxbridge, as a result of all their hard work. The Sixth Form Team continues to be available for any further advice and guidance.
2023 results Click here
2022 results Click here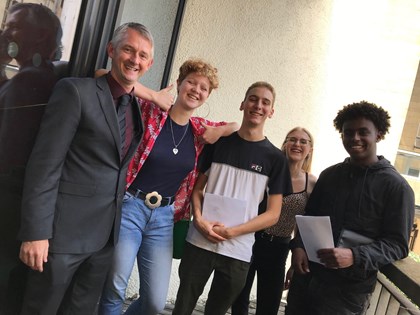 GCSE 
2023 saw students achieve outstanding results as validated by the predicted National Progress 8 score of +0.45.  Progress 8 measures the progress that students make from Primary KS2 results to GCSE. From a cohort of over 150 students, 38% of all GCSE grades were 9-7, 83% of grades 9-4%. We are very proud of our students achievements across all subjects.
2022 results Click here
To see the Bristol Cathedral Choir School page in the Department for Education School Performance Tables, click here. This page will be updated once the new tables are published.
View the Bristol Cathedral Choir School's performance data published by the Department for Education
View all English secondary school performance data published by the Department for Education